Furniture Sofa Chair Bed Door making 4axis 4X8 CNC Wood Router 2040
------------------Brief description of 4 axis 4x8 Cnc Router------------------
1. It is installed with 9.0kw HSD spindle ,C Rotary Axis:360 degree, HQD spindle can be chosen
2. NcStudio NK280 controller with high performance and competitive price
3. 750w Yaskawa servo motor and drives 4sets
4. HIWIN linear guide linear reciprocating motion
5. Working table:2000*4000
6. Gantry height : 500mm
7. Drive System: X,Y axis with Rack & Pinion , Z axis with TBI ball screw
8. Automatic Tool Calibration - To guide rail and slide block , make it run better
9. Schneider electrical components - original brand from France
10. Japanese Shimpo reducer
11. T-Slot table with vacuum combined - Use vac-sorb, also could use clamp fixed materials
12. 380V/3ph/50 or 60HZ ( The voltage can be customized according to clients' needs )
13. Linear Auto tool changer 6 tools
14. Optional parts : Water cooling or Oil-free air-cooled vacuum pump/ Dust collector system/ Oil mist cooling system (We suggest if processing on hard material)/Original type3 software from France/Carousel type auto tool changer/ Laser light curtain safety system
------------------Machine application of 4 axis 4x8 Cnc Router-----------------
| | | |
| --- | --- | --- |
| 1 | Woodworking | waving board, cabinet door, solid wood door, craft wood door, no-paint door, folding screen, craft window, shoe polisher, game machine cabinet, Ma-jiang Table, computer table and panel type funiture. |
| 2 | Advertising | making advertising products made from Brand Board, Acrylic cutting, mould and some other materials processing. |
| 3 | Mould Area | copper engraving, aluminium and iron engraving, and nonmetallic moulds, like: scagliola, sandstone, plastic board, PVC pipe, wood sheet etc. |
| 4 | Other Application | Art and craft fields, embossment, photo engraving and so on. |
---------------------Machine photos of 4 axis 4x8 Cnc Router-------------------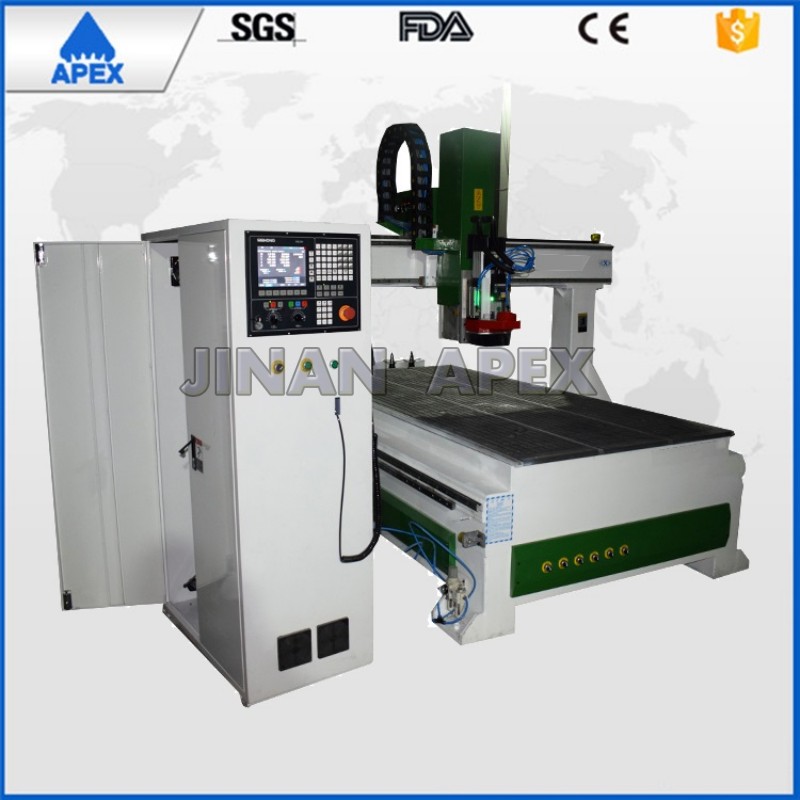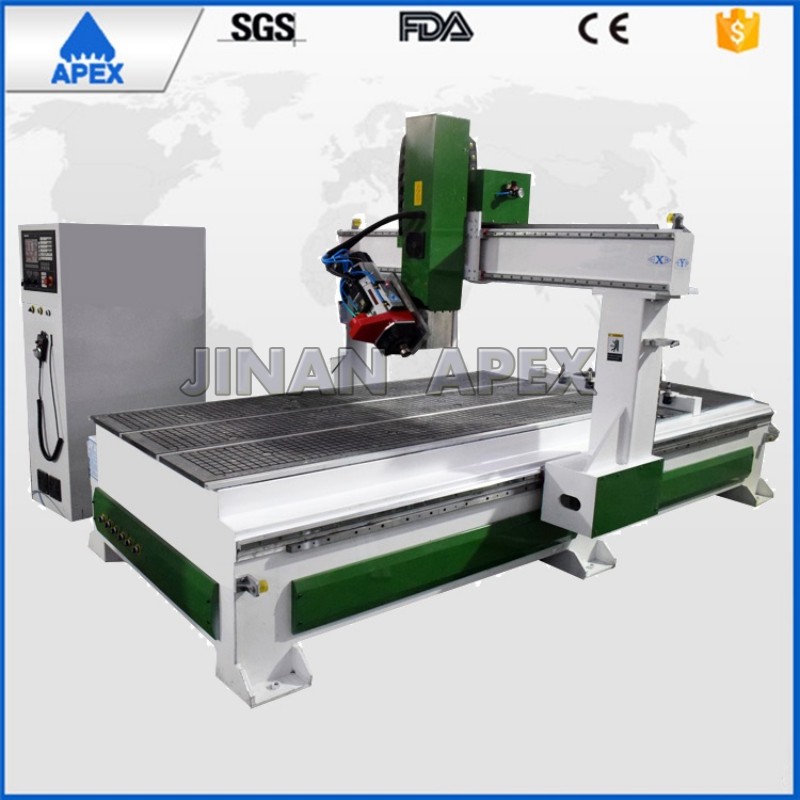 4 axis cnc router machine
1) 4 axis cnc router for curved chair :
2) Tool changing for Linear ATC
---------------------FAQ of 4 axis 4x8 Cnc Router-------------------
1. Is it better to install by myself or buy Cnc machine from you?
Most traditional woodworkers would say yes, but consider this. If you want to take you woodworking to a higher level than most hobbyist the answer would be no. The average hobbyists spends between $6,000 and $8,000 on tools and machines to completely outfit their shop. Obviously it can be done for less or more but that's the average. If you invest in the right CNC first, you will be able to accomplish all of the task that you can do with the traditional tools and machines plus a lot more. Why spend the money twice on tools that will do the same task? Our Cnc can allows you to turn parts you never dreamed possible, create all types of precision joinery as well as cutout, shape, form and carve practically any part you can dream up all for about the same price as a well equipped shop.
2. I do not know how to do drawing ,how can I do ?
Firstly ,we will send the software along with machine , after you get the software ,I will send you teaching videos for how to install it. Then our engineer will give you free training about the software, they will teach you how to do drawings . Then you can practice several times and then you can master it, We will also show you the various software programs available and work with you to choose the software that is right for you.
3. Is programming and operating CNC hard to learn?
It is very simple to learn. In fact, you can program turnings that feature turning elements such as beads and coves, rope or barley twist, indexed flutes and square ends in just a few minutes. Simply answer a few questions to create the code. Other CAD/CAM software packages require a little more time to learn but they all have tutorials and online user groups to quickly get you up to speed. We have been teaching our clients in the past years , On avarage , The clients can learn how to master the control system in one hours
---------------------------------------Please Contact Me----------------------------------
Jinan Apex Machinery Equipment Co.,Ltd

Bella Li
Skype: bella002@apxmake.com
Tel/Whatsapp: +8615665810881
Wechat: 15665810881
Email: bella002@apxmake.com
Website: www.apxmake.com