Leather auto typesetting Multilayer Fabric cutting machine with oscillating cutter
Overview of Multilayer Fabric cutting machine with oscillating cutter
Leather auto typesetting Multilayer Fabric cutting machine with oscillating cutter system is a complete line-up of oscillating knife cutting tables, It can be installed with different tools ( Such as tangential knife , round cutter , drawing pen , etc) , full bovine hides at the same time.) The working table size can be made up to 2000*11000mm, with nearly 10 years of experience in Cnc cutting field , the machine is produced by all information collected by following our customers and paying detailed attention to their feedback and actual cutting needs.
We can add digital cameras for material contour recognition, projectors to visualize the cutting layout & assisted parts collection & the powerful yet easy to use control software with the cutting edge automatic + interactive nesting software are key components, making it the ideal cutting solution for a variety of industries processing diverse amounts of synthetic material.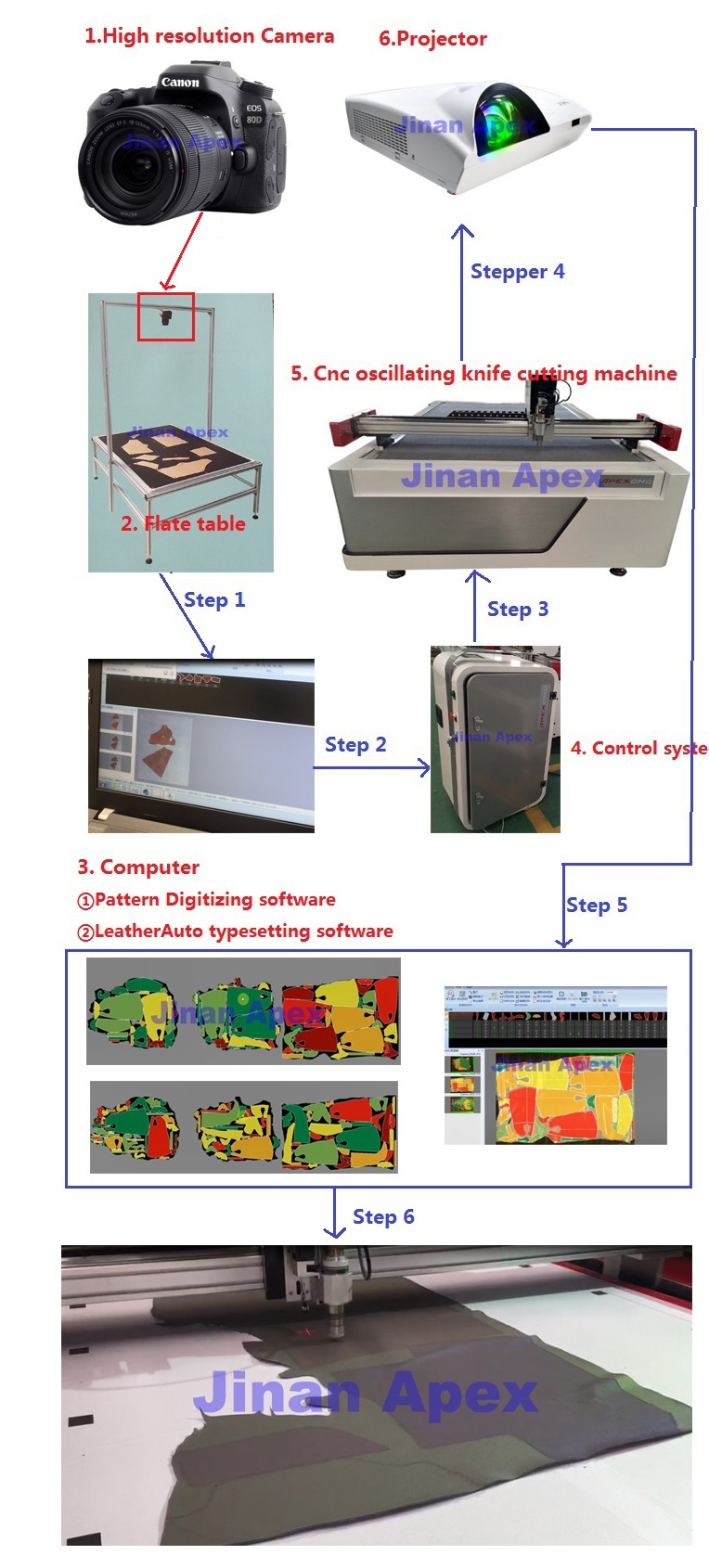 A cutting system consists
| | |
| --- | --- |
| High resolution industrial camera ( CCD) | It is for scanning the patterns or material |
| A flat table to put patterns or materials | It is for putting material or patterns , so we can scan them on it |
| Softwares | Digitizing software for pattern , auto typesetting software for leather |
| Control system for cnc machine | We use independent control box , which has control system installed on it ,It has touch screen |
| Cnc oscillating knife cutting machine | It is working part which is to cut material |
| Projector | It will project the drawings (or pattern ) on the table , It can tell if all patterns can be in right position |
Application of Multilayer Fabric cutting machine with oscillating cutter
The machine is made together with the powerful & flexible production control software make the AutoCad an efficient, versatile & powerful dieless cutting system suitable for a wide variety of industries and applications:
Footwear & Leather Goods
Gaskets in their various forms (6mm Compressed & Tang Graphite Included)
Foam up to 130mm in thickness.
Rubber and it's by-products up to 25mm in thickness.
Conveyor belting materials.
Composite materials: carbon fiber, Kevlar, pre-pregs, honeycomb etc.
Industrial Fabrics and Technical Textiles.
Adhesives & Laminated Materials (Kiss-cutting)
Interior Upholstery (Automotive, Aerospace, Marine)
Fashion & Apparel (Multi-Ply Textiles)
Plastics (PU, PP, PVC, Polycarbonates, Acrylics etc..)
Paper, corrugated and printed materials.